Word Play Week
Word Play Week
12 June 2022 (by K Virdee (kvirdee))
Year 6 were lucky enough to meet author Lindsay Galvin!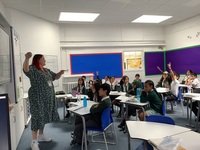 During Word Play Week, we were lucky enough to have heard from lots of authors who shared tips, tricks and wise words of inspiration with us. Mid-week was amazing as we were lucky enough to meet an author in real life- Lindsay Galvin! It was great meeting Lindsay, as she is the author of Darwin's Dragons, which was our class reader earlier this year.
She was very friendly and shared lots of information about where she gets her inspiration from, how she researches animals she includes in her books and even how she develops her ideas. She shared lots of fun facts about her new story 'My Friend the Octopus' which some of us bought and even had signed by the author herself! What a fab week!